BP processes about 1.5 million barrels of crude oil per day, across six refineries in the United States. In total, 150 refineries in the United States process just under 18 million barrels per day, so BP processes about 8.5 percent of it. However, as reported by the Center for Public Integrity, 97 percent of the most dangerous violations found by OSHA were on BP properties.

There are several levels of citations. The most dangerous are egregious willful and willful, in that order. Egregious citations are flagrant violations and willful citations are intentional disregard for employee safety and health.
Between June 2007 and February 2010, there were 761 egregious citations issued in total. All but one of them were issued to BP. In the same time period, 69 of the 91 willful citations also belonged to BP.
Most citations for other companies were in the serious category, meaning there was "substantial probability" of death or serious injury. There were 1,521 serious citations issued to non-BP refineries, versus BP's thirty. However, if we take into account barrels of oil processed by the rest, we get an even worse image of BP. Really, it's bad no matter how you look at it: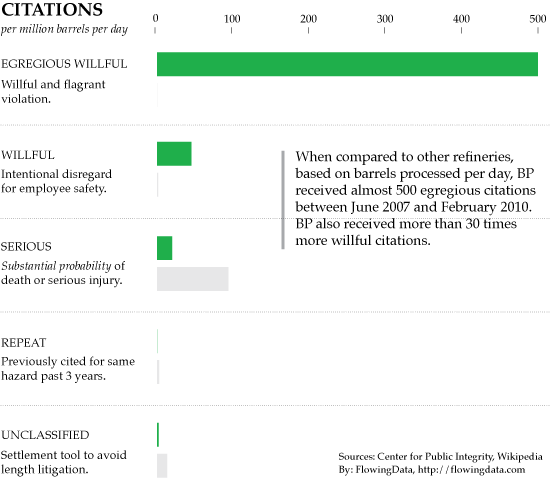 Grab the data here to take a look for yourself.