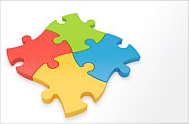 Health and Human Services (HHS) is about to announce the launch of their Community Health Data Initiative over in DC right now. The point is to make health data more usable for consumers and communities.
Today groups will be presenting how they've made use of the data in the past few weeks from about 9:30 to 10:30 – as in right now. I've embedded the live webcast below.
They're just going through the formalities of thank yous and intros right now, but the good stuff should start soon.