In another step towards open data and all that jazz, the World Bank released World Development Indicators 2010 today, which is meant to serve as a progress report of the world.
The WDI provides a valuable statistical picture of the world and how far we've come in advancing development," said Justin Yifu Lin, the World Bank's Chief Economist and the Senior Vice President for Development Economics. "Making this comprehensive data free for all is a dream come true.
More importantly though, this comes with the launch of the freely available online database and public API to 1,000+ indicators. There used to be a big fee for this data. I can't speak for the API, but the website is well-designed. It has profile pages for each country, links to download the indicators in Excel and XML, and hey, are those graphs implemented in HTML5? I spy <canvas> tags.

Here's the profile page for Tanzania.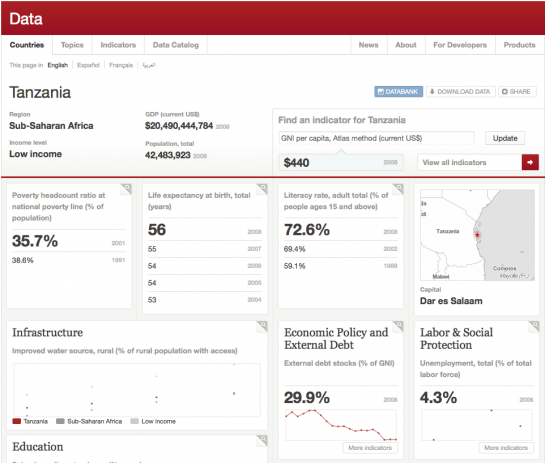 All in all, it's very well done. It reminds me of an Everyblock for the world. I wouldn't be surprised if some inspiration came from there. It'll be exciting to see what comes out of phase 2 of the project and what developers do with the now easily-accessible data.
Does anyone know who lead the design on this? (Update: Designed by Development Seed. It looks like they've got a few other interesting projects under their belt. thx, @cairnsim)
Update: World Bank President Robert B. Zoellick speaks about the Bank's new open data initiative (below).