When it comes to visualization, especially on the Web, you have to be open-minded, and you should be willing to try new things. There's no advancing otherwise. However, before you dive into the advanced stuff – like just about everything in your life – you have to learn the fundamentals before you know when you can break the rules.

You have to know what flavors work together and against each other before you cook a feast fit for a king. You have to learn grammar and spelling before you can write a book that others will actually enjoy.
So when you're learning to visualize data, do yourself a favor and learn the basic rules first. Then you can spend the rest of your days breaking them.
What Works
Luckily, researchers have already done lots of studies on what visual cues work and what sucks, so you don't have to start from scratch. Most notable is perhaps William S. Cleveland and Robert McGill's paper Graphical Perception: Theory, Experimentation, and Application to the Development of Graphical Methods [pdf] from the September 1984 edition of the Journal of the American Statistical Association. I won't rehash the whole paper, but the findings of most interest here is a ranked list of how well people decode visual cues.
When we (the designers) visualize data, we encode the quantitative information in shapes, color, position, etc. The viewers then have to decode that information. Cleveland and McGill studied what people are able to decode most accurately and ranked them in the following list.
I'd say that's what we'd expect nowadays, right? However, that angle and slope ranking might be a bit of shock to some of you, given all the pie chart hate we see.
In fact, the decoding error for all encoding types isn't wildly bad: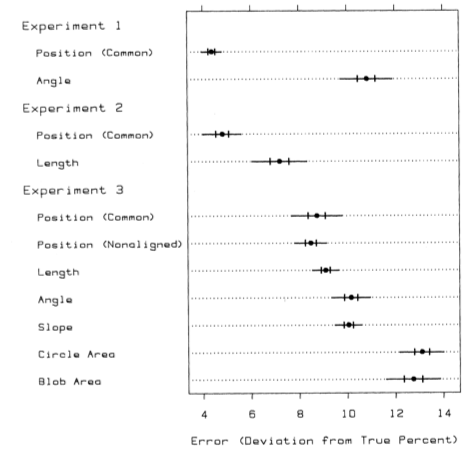 A Framework
Now before you go shunning everything that isn't in the top three, keep in mind this list isn't meant to be a definitive answer on what to use and what not to in your data graphics. Cleveland and McGill note, "The ordering does not result in a precise prescription for displaying data but rather is a framework within which to work."
That sounds like an invitation to break some "rules" if you ask me. We might even be able to do certain things that push those error bars further left. That's for another post though. The keyword is framework. Start with the visual fundamentals along with other important stuff, like context, the audience, and what you're trying to accomplish, and you'll be in good shape.
From there, you'll learn from experience how to get fancy with your visualizations – just like how sentence fragments can be effective sometimes or how sometimes salt and fruit go well together. Sometimes area charts are a good choice.