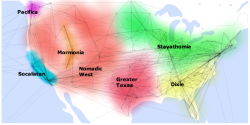 How to split up the US – Geographic clusters based on social network connections on Facebook. [thx, przemek]
Rise of the Infogeeks – Lots of graphic designers have taken a liking to information graphics.
Bay Area Rapid Transit (BART) gives augmented reality a go – Point your iPhone at the station and get info on when the next train is coming.
Google Public Data Explorer – Trying to get more mileage out of the Trendalyzer acquisition. [thx, eric]