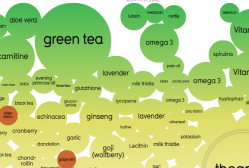 Snake oil? Scientific evidence for health supplements – Some work as advertised. Others are just a waste of money.
Cell phones show human movement predictable 93% of the time – Is this really all that surprising? Work, school, home. Rinse and repeat.
America's Wealthiest Religions – A Good Magazine transparency. Probably didn't need to be circular.
Measuring Tweets – Twitter is now handling 50 million tweets per day i.e. 600 tweets per second.