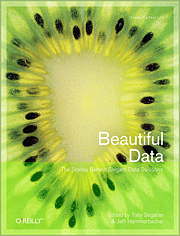 Beautiful Data from O'Reilly is now available! The book is a collection of articles from 39 data practitioners including Michal Migurski, Aaron Koblin, Jeff Heer, and plenty others, sharing their experiences with data, their methods, their thoughts, and most importantly, how beautiful data really is.
I was fortunate enough to write one of the chapters: Seeing Your Life in Data. I describe my experiences developing for the Personal Environmental Impact Report and the beginnings of your.flowingdata. I'm looking forward to reading all of the other contributions.
Two Free Copies to Give Away
Lucky for you I have two free e-book copies to give away. Want to win one of them? Leave a comment below by the end of today – July 31, 11:59 EST. Let's go with your favorite food this week. One entry per person please. Good luck.
P.S. If you're not one of the two winners, don't fret. Use the following discount code on the O'Reilly site for a 30% discount: ABF09.