your.flowingdata (YFD), a Twitter application that lets you collect data about yourself, is now LIVE!
I feel like I've been working on this project forever, but it's finally at a place where I think it's ready for human consumption. And unlike the previous version, what you track is completely up to you.

How to Get Started
You can start collecting data about yourself in just a few easy steps:
First off, follow @yfd on Twitter.
Once you're logged in to YFD, you'll see a link to a quick start guide. Follow the step-by-step directions and you'll be tweeting data in no time.
Once you've started tweeting data, it'll take about two minutes (usually less) for your data to appear on YFD.
Patterns Over Time
The real strength of your.flowingdata is exploration of personal trends over time. Like most data, your data is going to get more interesting the longer you collect.
This is why you use YFD the same way that you use Twitter. YFD was designed to be unobtrusive. You simply send direct messages about what you're doing, what you have done, or what's going on around you.
Collect regularly, and you're going to see something interesting.
If you just log a few data points about yourself, you're not going to get much out of it; however, if you log a few data points per day, then you're on to something. Imagine if Al Gore only showed one temperature value in his now-famous global warming presentation. It's the cycles that mattered – not the single data point.
Remember – you want a whole story (about you), not just a few random words.
Explore Your Data
YFD helps you tease out the story in your data. It's all about interaction and exploration, largely inspired by IBM's Many Eyes, except it's all about you.
Maybe you're interested in categories, like the range of your daily emotions. YFD provides a searchable treemap that can be browsed by time: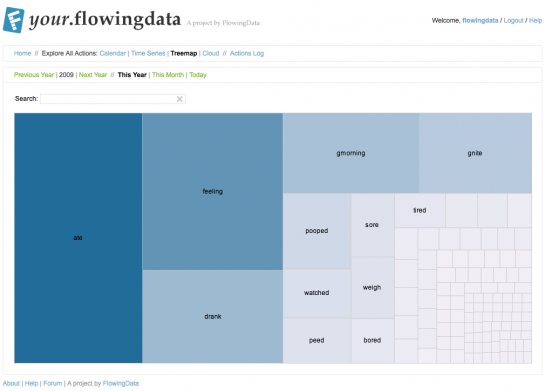 You could be interested in daily, weekly, or monthly patterns. Use the searchable and interactive stacked time series chart, much like the popular Baby Name Wizard: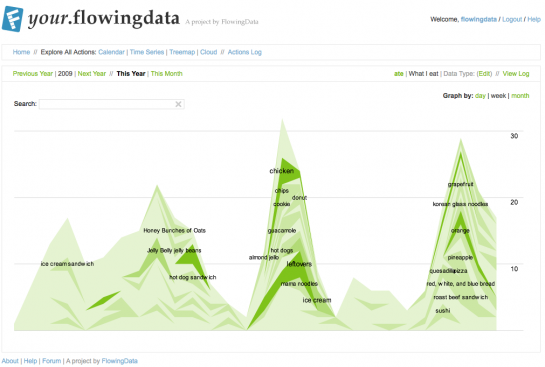 You can also browse via a calendar interface like the one at the beginning of this post.
How about a word cloud? That's searchable too:

Again, all of these visualizations are browseable by time. Track your life in data long enough, and you're going to spot something interesting, and hopefully, have some fun in the process.
An Intertwined Stream Without a Dashboard
With that said, some of you might be wondering where the dashboard is. The previous version did after all have a drag and drop dashboard-y feel to it. But I decided to get away from that on this go around.
I just feel like when I put my data in widgets and modules and boxes, it seems disjoint, while in reality, all the choices we make are intertwined.
Your blood sugar, for example, is directly affected by what you eat, but is there anything that changes your eating habits? Maybe mood. Maybe exercise. All of it? It's an intertwined chain of events and sort of flows like river. There might be a boulder way upstream that steered the water to where it is now.
Of course I could be completely wrong and maybe we really do need a dashboard for this type of data, but for now, the focus is on exploration.
Your Private Data Stream
In the early beginnings of YFD, all data was public. I changed that. Now all data is private. The only person who can see your data is you. I did this for two reasons.
The first reason is that I didn't want to add more noise to the stream. There's enough as it is and there's only so much you can take. I mean, I have enough of my own data. I don't need to keep track of others'. It's kind of interesting to peep in on others' lives, but in the end, it doesn't do you much good. I think your Twitter public timeline is a good threshold for what to share and what not to.
The second reason is that there are a lot of aspects of your life that you don't want to share with the world but are worth keeping track of. You don't have to look very far for examples.
I saw this immediately after I started tweeting data about myself. Once you log one thing, a lot of other stuff tends to pop up in your head.
So yeah, I take data privacy seriously. I've been toying around with the idea of the choice to make some data public and some not, but that's further down the timeline.
Much More to Come
This project is far from final, but I think YFD is pretty useful as-is. Some of the major plans I have for YFD include customizable pages, integration of more statistical analysis techniques, and alerts and and pattern recognition.
Finding YFD Help
Please post all of your YFD questions, comments, or bug reports to the new your.flowingdata Forum. I'll be checking it regularly, and knowing me, probably multiple times a day.
If you don't know what OAuth is or don't know a lick (or care) about programming or implementation, feel free to skip the next section or get right to tweeting data on your.flowingdata.
For the Nerds
For the rest of you, here are a few quick facts about how I implemented YFD.
The application itself was built with Django, a Web framework in Python. The prototype was first conceived with a few PHP scripts, so I did try CakePHP, but after a few frustrations, I figured it was a good of a time as any to finally learn Python. I'm glad I did.
Several of the YFD visualizations make use of Jeffrey Heer's Flare visualization toolkit. It's in Actionscript 3 and works pretty well. Because Flare has so much built-in functionality though, it did take a little time sifting through all the documentation to figure out what I wanted to do. However it saved me a lot of time in the end.
I also used Garreth Watts' jQuery sparklines plugin. It was a piece of cake to use. By the way, if you're doing javascript without jQuery, you're seriously missing out on some javascript goodness.
Finally – OAuth. A lot of you were pretty vocal about this one. YFD now uses OAuth, so that you don't have to give your Twitter password to a third-party application.
Disclaimer
Please keep in mind that I am only one graduate student with a thesis to finish. YFD is part of my research in self-surveillance. While I'll do my best to make sure YFD runs smoothly, I will almost without a doubt run into some kinks. Please help me out by reporting any bugs or problems in the your.flowingdata forum.
Also, in the case that @yfd doesn't follow you back very promptly, usually within a few minutes, it's likely that @yfd has hit a daily limit for the number of follows in a day. Check back the next day. If it's been more than 24 hours, please let me know in the forums. I've already talked to Twitter about this, and they're working on a solution, but it won't be for a while.
Have fun capturing your life in data!