You might recall that the United Nations Statistics Division launched UNdata about one week short of a year ago, which was an improvement on the previous United Nations Commons Database. UNdata provides a gateway into 22 United Nations databases and 66 million records. Yeah, it's a lot of data, but what do we do with it? What does it mean? Progress: A Graphical Report on the State of the World is a modest attempt to make some sense of it all; and by all, I mean a small subset.

I took a step away from code, opened up Adobe Illustrator and R, and did my best to visualize important topics like mortality, population, energy, and environment. It's amazing what you learn when you start digging into data. Did you know the average Niger woman will have seven children in her lifetime?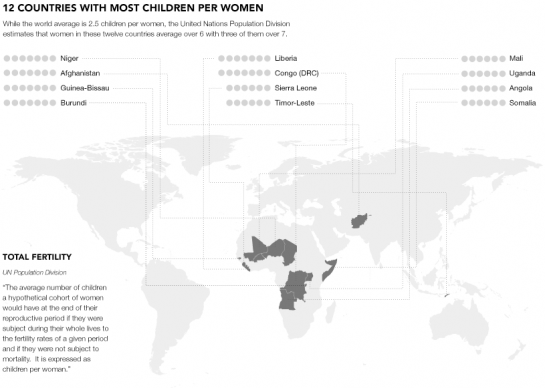 Some of the report is the graphs that you're used to while a couple were for fun and experimental. Check it out, and let me know what you think (and if you find any mistakes).
A Note About the Data
If you want some real data to work with (as opposed to the clean, fake kind), UNdata is an excellent place to find it. It's sparse, scattered, and oftentimes hard to figure out what the data are about – which is what you should expect. Although for some odd reason I wasn't expecting it to be so tricky to navigate. In any case, you'll notice that some of the pages show only select numbers for certain countries. It's most likely because there wasn't all that much data for that metric… or I just thought the factoid was interesting. More likely the former though. The further back in time you go, the more sparse the data gets.
Anyways, this was fun and I think I'll do it more often. It was nice to get back to where it really all began for me. Any suggestions for the next series of graphics?