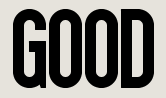 I subscribed to GOOD Magazine a while back. They describe themselves as the magazine for people who "give a damn." I initially subscribed because of their transparency section – a series of fun infographics on some topic – in each issue, but it turned out the articles were interesting too. GOOD also gives 100% of their subscription fees to the non-profit of your choice.
Drawing for Free Subscription
Anyways, I never got around to renewing my subscription, so I got a 3-for-1 email offer the other day. I get 2 free subscriptions to GOOD with my renewal, so I thought, "Hey maybe a couple of FlowingData readers might enjoy a free subscription." Anyone? I'll make this easy on you all. If you'd like to win a free subscription, just leave a comment on this post that promises you'll tell one person about FlowingData. One entry per person, please.
I'll choose two winners at random Friday afternoon. If you win, you'll hear from me then. If not, I'd encourage you to subscribe anyways. It's only $20, and it all goes to charity. Make sure you leave a valid email address so that I'll be able to contact you.
P.S. FlowingData's got a contest involving two free Tufte books on the way. Keep an eye out.
UPDATE: Congratulations to our two winners drawn at random – Griffin and Brett! Thanks all for participating and helping our community grow.