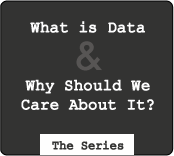 This guest post is by Mike Love, and he answers my question — "What is data and why should we care about it?"
Instead of answering in the general case, I'd be better off trying to answer it for an area of my interest.
Historical Connections
I think cultural history can be presented as data, and that we could get some benefit out of standardizing some atomic properties of cultural history. There are a couple good efforts at doing this: Artandculture.com is an "interconnected guide to the arts," where you can see what movement artists and others belonged too. The Knowledge Web is a project of James Burke of the television show 'Connections'. They are working to encode tens of thousands of historical connections into a database. I have been working on a similar dataset at the open database project Freebase. Each of these projects have moved beyond text (and hypertext) and into the realm of data.
One seemingly trivial advantage of data over text or text with hyperlinks: you can specify that making a connection between person A and person B implies a connection in the reverse direction. This cuts the workload in half: Wikipedians entering relationships into an infobox in Wikipedia have to do twice the work of a person working in a database framework.
Apply Relationships

The more exciting advantage is the kind of applications that are possible once you have settled on a set of relationships. The team working on the Knowledge Web built a graph browser which embeds historical figures in their century and draws lines between these figures. Mousing over a line brings up some descriptive information about the relationship. A team at Metaweb built a graph browser which pulls up pictures of historical figures and lays out their influences and influencees in a circle surrounding them. You can imagine filtering in other ways: show all the connections between artists and writers; show all the cross-cultural connections between China and Europe. You could plug historical data into a recommendation system as well.
There is nothing new about documenting cultural connections. There are many better, probably more reliable books that serve this purpose. (For Western history, I recommend Richard Tarnas' The Passion of the Western Mind, and Peter Watson's The Modern Mind.) But to design a dynamic interface to these books would require parsing the English language. Maybe we can do this too.