There was a Sharp Rise Seen in Applications for Citizenship, as reported in The Times today, and of course there was a graphic to complement that article that showed the rise in applications over the years as well as a by-country breakdown for 2006.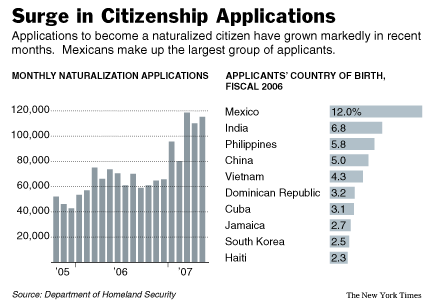 Graphics in The Times always site the source, which was Department of Homeland Security in this case. I thought, "Do they have some kind of source who they actually call to get this data?" Thinking such a thing, I feel pretty dumb now. In fact, I always see that source on all of the graphics, and have just assumed that there was some connection between The Times and the source.
Wrong.
So lazy me finally decided to look into things, and you know what, the Department of Homeland Security has a whole section on their website for Immigration Statistics. There are freely available spreadsheets, reports, publications, and even a little something on data standards and definitions, prepared by none other than the — Office of Immigration Statistics. Very pleased.
It's kind of sad that this is just now news to me, but better now than never, eh?