Unemployment in America, Mapped Over Time
Watch the regional changes across the country from 1990 to 2016.
We often hear about shifting unemployment rate at the national scale. It went up. It went down. It changes month-to-month. But unemployment is very regional, more common in some areas of the country than others. In many areas, unemployment rates remain relatively high despite the decreases in the national average.
The Bureau of Labor Statistics estimates county-level unemployment on a monthly basis. You can also get annual averages that go back to 1990. In the animated map above, I used the datasets to show the shifts over the past few decades.
Watch out for the big shift between 2008 and 2011 — and then the decrease in unemployment leading up to the present.
Of course, this rise and fall is obvious through the national average, shown in the chart below.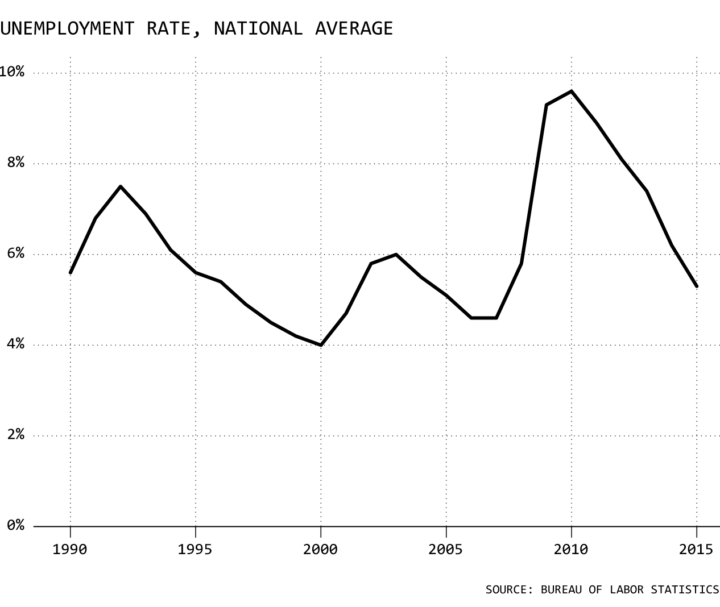 While the line chart is more succinct, the map shows more complexity and feels more real.
Mapping Irregular Data with Interpolation in R
This is how to make this kind of map with your own data.
Nerd Notes
This was largely an excuse to try out the steps that David Sparks outlined to make his election map. BLS provides county estimates, so I interpolate to fill in the gaps and use basic linear transitions between years. As with all smoothing, this method has its advantages and disadvantages.
I made the bulk of this video in R.
Become a member. Support an independent site. Make great charts.
See What You Get
My work on FlowingData is supported by paid memberships. Since 2007, I have been analyzing data and making charts to help people understand and appreciate data in their work and everyday lives. I hope to keep it going for many more years.
If you liked this (or want to learn how to make similar data things), please consider supporting this small corner of the internet with a membership. You get unlimited access to visualization courses, tutorials, and extra resources. Thanks. — Nathan