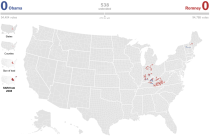 As the results roll in tonight, you have plenty of options to keep track of who won what and where. These should cover all of your bases.
New York Times coverage — Up to their old tricks, they have a map, big board, and network calls. The paths to the White House interactive will also be updating live.
NPR big board — Updating every 15 seconds, this is the display that NPR hosts and election staff are watching. And of course, there's also news coverage.
Huffington Post map — Like the others, updates every 30 seconds. Also indicates where polls have closed.
Is Obama president? — Finally, if all you care about now is the result, the minimalist Guardian and Real Clear Politics collaboration provides that. See also Romney version.
(There are a ton more, but these are the ones I'll be watching.)