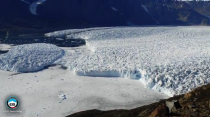 Glaciers are big, slow-moving objects, and it might seem that not much is happening if you stare at one for a while. The Extreme Ice Survey, founded by James Balog in 2007, aims to provide the ice with a "visual voice" using time-lapse photography.
One aspect of EIS is an extensive portfolio of single-frame photos celebrating the beauty–the art and architecture–of ice. The other aspect of EIS is time-lapse photography; currently, 27 cameras are deployed at 18 glaciers in Greenland, Iceland, the Nepalese Himalaya, Alaska and the Rocky Mountains of the U.S. These cameras record changes in the glaciers every half hour, year-round during daylight, yielding approximately 8,000 frames per camera per year. We edit the time-lapse images into stunning videos that reveal how fast climate change is transforming large regions of the planet.
Some of the videos span four years, from 2007 to 2011, and it's amazing to see the sped-up dynamic of the ice. I like this one, which Balog refers to as the cat's paw. It looks like a big paw of ice reaching into the ocean.
[via Boing Boing]