Last week I announced the release of Visualize This: The FlowingData Guide to Design, Visualization, and Statistics, and I have to admit: I was addicted to the listing on Amazon, which shows sales rank, that day. At its peak, it broke the Amazon overall top 100, all the way up to #77. Of course the dust has settled, but it's still been doing well. I can't thank you all enough for the support.

Many of you asked if Visualize This would be available digitally. The physical copy came out first, but the book is now available in all of the major eBook formats: Kindle, iPad, and nook. It's also available on Wiley.
For those who noticed the Kindle version initially cost more than the physical copy, you'll be pleased to know that the price has come down. It's an Amazon pricing thing. Apparently Kindle versions of books are higher the first few days they come out.
Sample Chapter
In case you're on the fence about whether Visualize This is right for you, here's a sample chapter (Chapter 6, to be more specific) from the book. Obviously, the images are higher resolution in the full version. Also keep in mind this chapter is preceded by others that give you hands-on introductions to Illustrator, R, JavaScript, and Flash.
Data and visualization can be a technical subject, but I did my best to make it an easy read without dumbing it down. If you read FlowingData, you'll recognize the tone.
What others are saying
Anyways, don't take my word for it, as they say, here's what others are saying about Visualize This. This is just some of the great stuff people have been saying on Twitter.
@SecretArtsMedia: @flowingdata has produced an incredible book called Visualize This. If you like data visualization, go and get it: book.flowingdata.com
@machikoyasuda: The @FlowingData book has arrived! Even better than the blog, if that's possible.
@shadi: YAY!! After MONTHS of waiting, just received my "Visualize This" book by Nathan Yau (@flowingdata), quick browse: very much worth the wait :)
@jgreaves: reading Visualize This (kindle version) Fantastic read, amazing work Nathan @flowingdata thought I might need paper v, but kindle v = great
@Annemcx: taking @nathanyau's @flowingdata's book 'Visualize This' to bed with me. It's that good and I'm that geeky.
@peterm95018: Just read the first few chapters of Visualize This. Great read. Gonna get a place next to my Tufte books.
@since1968: "Visualize This" reads like a love letter to python, r, maps, and data. Thanks @flowingdata
@bmarkslash7: It came and immediately got stolen. Looks great @flowingdata http://twitpic.com/5qppc2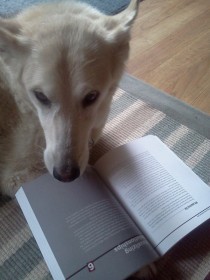 @afinefellow: @flowingdata Great book but you kept me up too late reading! There goes my week-end.
@dreeves: Very excited to dig into the new @flowingdata book this weekend! http://yfrog.com/khm5fhoj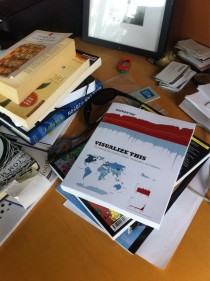 @callmephilip: @flowingdata got my copy of #visualizethis : beautiful, insightful and inspiring #thankyou
@kevinpurdy: Awesome day, but now I want to play sick tomorrow. Why? So I can spend all day with @flowingdata's book
@statpumpkin: My plans for the evening. Congrats @flowingdata!! Only 30 minutes w the book and already learned new things!! http://lockerz.com/s/119882403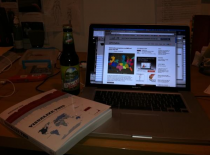 @andrewheiss: Geeking out with R Studio, Illustrator, and @flowingdata's new book.
@southard: Hey @flowingdata, Visualize This. Looks great. Excited. #statsnerd http://yfrog.com/kellsvqj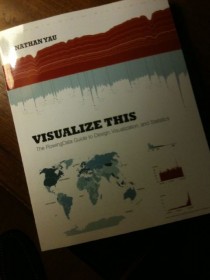 If you're enjoying the book, I'd really appreciate a review on Amazon. It's the best way to help both FlowingData and the book reach a wider audience. There's one there already (thanks, Stephen Ball) to get it started. Thanks again, everyone. Like I said, without you, this book doesn't exist.
And if you haven't gotten Visualize This yet, it's available at all the major online booksellers (and hopefully actual bookstores soon). Get all the info here.