We often think of communities in the framework of government-set boundaries, but relationships can exist across states and counties. In a collaboration between researchers from AT&T Labs Research, IBM Research, and MIT SENSEable City Laboratory, these relationships are revealed through an analysis of SMS and call data.

Using millions of anonymized records of cell phone data, researchers were able to map the communities that people form themselves through personal interactions. The cell phone data included both calls and texts and was collected over a single month from residential and business users.
Researchers applied a modularity algorithm to cluster counties that messaged and called each other more often. The map above shows "communities" based on SMS, where each color represents a cluster. It's not uncommon for relationships to stretch across state boundaries, such as those in Washington and Oregon or West Virginia and Ohio.
Below shows a different (sort of less useful) view of phone calls. The higher the arc, the more phone calls between two areas. The taller, skinnier arcs represent calls within a specific region.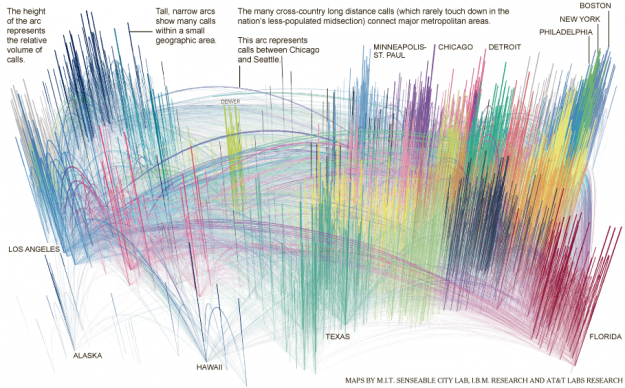 And here are the same maps with some sexy music in the background.
Check out the AT&T Labs Research writeup for more insights into the data.