Add another online destination to find the data that you need. DataMarket launched back in May with Icelandic data, but just a few days ago relaunched with data of the international variety. They tout 100 million time series datasets and 600 million facts. I'm not totally sure what that means (100 million lines, sets of lines?), but I take it that means a lot.
Just over 2 years and countless cups of coffee after we started coding, DataMarket.com launches with international data. You can now find, visualize and download data from many of the world's most important data providers on our site.
At first glance DataMarket feels a lot like now defunct Swivel. Search for the data you want and you get back a list of datasets. The focus on only time series though is actually a plus in that they can provide more specific tools to visualize and explore. The current toolset isn't going to blow you away, but it's not bad.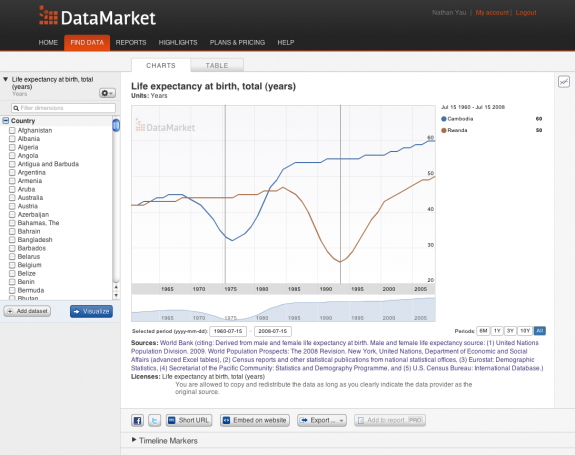 Unlike other data-centric offerings like Infochimps and Data Marketplace (recently acquired by Infochimps), DataMarket doesn't provide premium datasets. They take existing data and make it easier to manage and use. All of the data is available to download as CSV for free, while premium members can build custom reports, download files as or automatically import data into Excel. Finally, they also provide API access for a monthly fee (sort of like Factual).
While I'm happy these sort of applications continue to launch, I'm still kind of concerned about how financially viable they are. Obviously I really want them to succeed, but is the niche big enough? Who are the main people who will pay for the service? I guess time will tell. In the meantime, I'm glad there are people making my life easier.
Check out a short clip of how DataMarket works in the video below.