Last week I found out that the FDA has a feed for all product recalls and market withdrawals since 2009 and an RSS feed with details. I did a quick search to see if anyone had done anything with the new source of data but didn't find anything very useful. So to scratch my itch, I banged this out over the weekend.

It's a more data-ish version of recalls that gives a bit more information than just a plain feed. You've got recalls over time with navigational bar graphs (based on this tutorial by Wilson Miner), and you can filter by company or month. What company has the most recalls? What's the most common reason for product recalls?
The above are recalls for March of this year, mostly due to Salmonella found in some Hydrolyzed Vegetable Protein manufactured by Basic Food Flavors, Inc. Here's what the homepage looks like: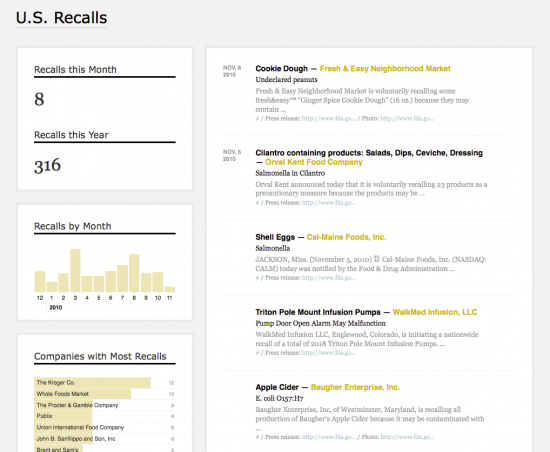 Salmonella is by far the most common reason for a recall since 2009. There have been 789 cases to date. The second most, with only 97 is that an allergen was found.
It's simple, but useful, I think. A lot more can be done though, like including images of products and companies, etc. There have been suggestions linking recalls to lobbying. Also, it'd be nice if data before 2009 were in there, but that's all the FDA's XML provides, and I don't have the time to parse out the HTML.
Anyways, if anyone wants to take it a step further, I've put the django apps on Google Code. There are two apps. One handles the scraping, and the other displays the data. Templates and media are in there too.
Thoughts on how to make this more useful? Leave 'em in the comments below.
[Recalls]