The World Cup is an event where countries from all over the world compete, but what about the teams themselves? Players may play for a single country, but many are 'imported' from elsewhere in the world as their day jobs are actually elsewhere. This isn't a new thing, but teams have certainly become more multicultural over the years.
Carlos Lemos and Daniel Lima report for Estadao on this cultural change since the 1994 World Cup up to present. Compare 2010 (above) to the player makeup from 1994 (below). Hugely different. For the most part, players stuck with their own countries in 1994: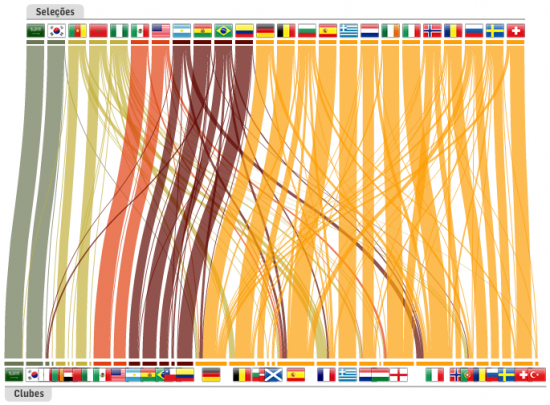 Roll over countries on top to see what clubs players are with, or roll over the bottom to see where players from a given club are from. Ribbon width indicates number of players. The greater the width, the more players from that country or team. Very elegantly done.
[Thanks, azathoth]