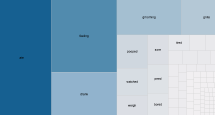 The quantified self sounds great on paper. The task: keep track of important facets of your daily life. The result: gain a better understanding of your day-to-day and make better educated decisions, based on the numbers instead of false assumptions and shots in the dark. What's not to like? Everyone wants to improve his or herself in some way.
To outsiders looking in though, tracking your life in data is ridiculous.
Who has the time to keep track of what you eat, when you sleep, and how many times you fart in the wind? To most people, data journaling (a.k.a. self-surveillance, lifetracking, lifestreaming, personal informatics) seems like a complete waste of time, and I don't blame them — for now.

Extra Effort
Personal data collection is still pretty intrusive. You have to make an effort to get useful data. Maybe you have to carry an extra device or wear a sensor. With many applications, you have to manually enter things.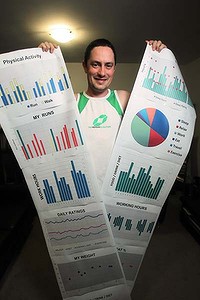 Even with your.flowingdata, which I tried to design to fit into a Twitter user's lifestyle, can get burdensome if you're collecting, say, more than five metrics.
In reality, a data journal doesn't really take that long. At the most, the time it takes to log a data point is as much time it takes to send a text message. You spend that much time tweeting or updating your Facebook status anyways. However, the instant gratification in a single update on Twitter or Facebook versus a data point on what you drank during lunch is much higher. You're sharing with friends and strangers. Sometimes people might like your status or retweet it. It's like a little treat for your ego or a way to pass the time.
The value in data journaling comes in the long-term though. The more data that you collect, the more meaningful (or sentimental) it becomes. That is, if you're provided with or know how to implement a worthwhile interface or set of visualizations.
Visualization and Interaction
Let's be clear. When we talk about the data journaling crowd, we're not just talking about statisticians and data scientists. We're talking about a more general audience. We're talking about non-professionals who don't necessarily have training in the number game. In fact, they don't even have to like numbers all that much. All they really need to have is an interest in themselves, and that covers just about everyone on the planet.
So that's the big challenge. The data, which is extremely personal and relevant to the individual who collected it, should be presented in that way.
The problem is, well, that it isn't. Data still looks like data in charts and graphs. To you (since you're reading this) and me, that's awesome, because we know there's a lot of value in data, and we know how to read those things. To others, statistical graphics is a reminder of work. It's a chore.
We don't have to completely stray from traditional graphics. But we can use interfaces that people are already familiar with. That familiarity brings context, and that context brings the sense of a story.
Maps, for example, are intuitive, and people use them every day. I've been looking at maps ever since I was a kid sitting in the navigator seat of my dad's car. We understand location.
How about a calendar for time-based data? Time series charts work, but like maps, calendars already rest in that everyday sweet spot. Plus, a calendar, because we enter events into it, is a perfect place where personal data can couple with our regular lives of meetings, vacations, and classes.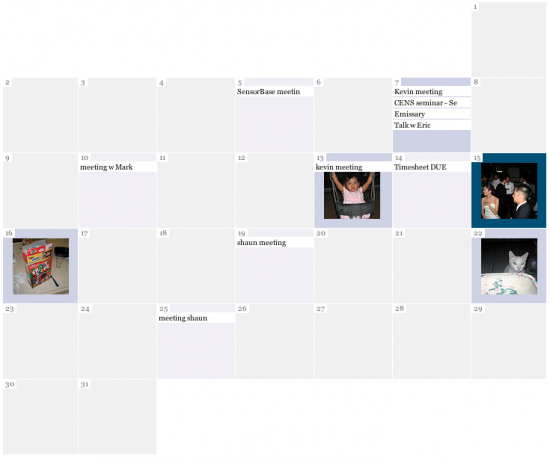 Think about when you flip through old photos on Flickr or Facebook. A picture brings back memories almost instantly. You remember when your first child was born or what it felt like on your wedding day. You don't get that benefit from a regular data point. It's just a number without a backstory. Put your data into a familiar place though, and you get some context, and that data starts to mean a little more to the everyday data journaler.
Finding Value
So now we start to get more mileage out of data journaling. Maybe it's not the kind of insight that we're used to thinking about with data. It's not so much about trends, outliers, and correlation at this point as it is about capturing memories. The data that usually runs separate from our everyday has the chance to provide another layer of memories to old archives, because the data is now a part of the archive.
Okay, I feel myself getting a little too dramatic here, but you get the idea.
When the data becomes a part of peoples' personal stories is when they'll feel more comfortable digging deeper.
Election data can be extremely interesting when you're following the actual election. Sports statistics are fun, because they're part of the game. The numbers say something about a candidate's campaign or an athlete's abilities. Similarly, your own data, whether it be about your finances, your health, or what movies you watch, can be really meaningful.
One of the keys to the success of personal data is to not lose that human aspect, which is tough because it is numbers. But it is possible.
If you lose that human aspect, you become more like a robot. It'll make you feel like one too. You want it to be the other way around.
Let the data flow more freely (man, I'm full of cheese today), and it could improve your day-to-day life. Data, after all, is simply a representation of it.
As technology improves and data collection becomes more automatic, it won't seem so odd. Until then, I'm fine with being one of those people. But sooner more than later, one of those people will be the person who doesn't have a personal data stream to look at, and oh boy, won't he be red in the face.