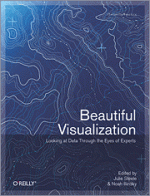 Continuing with the 'Beautiful' series, O'Reilly has released their newest one, Beautiful Visualization.
This book examines the methods of two dozen visualization experts who approach their projects from a variety of perspectives — as artists, designers, commentators, scientists, analysts, statisticians, and more. Together they demonstrate how visualization can help us make sense of the world.
Like others in the series (e.g. Beautiful Data, Beautiful Code), Beautiful Visualization is a compilation of essays from twelve people and groups who work in the field, and it's a very mixed bag. Regular FD readers will recognize many of the names: Fernanda Viegas, Martin Wattenberg, Aaron Koblin, Robert Kosara, Nick Bilton, and Jer Thorp, among others.

How to win a copy
You know the drill. Leave a comment below to enter your name into the raffle. Answer the following question: if you were an animal what would it be and why? I'd be a tortoise. Slow and steady wins the race.
Comment by Wednesday, June 23, 11:00pm EST, and then come back here to find out who won. I'll be selecting five winners at random.
If you're in the contiguous United States, you'll get the choice of the physical book or electronic version, which includes PDF, epub, APK, and mobi. Others will get the electronic version.
Good luck!
P.S. If you're impatient, here's the Amazon link. All proceeds of the book go to charity.
Winners
Congratulations to the winners below!
wookster – "I'd be a marlin, because they're sexy and can swim fast."
Galen – "I'd be a jackal consuming food others consider inedible."
Fabrizio – "I'd be a coral polyp, acting in wonderful communion with the crowd during my life, transformed in something beautiful and lively after my death."
Tom – "Platypus – the why should be obvious."
Matt – "Not creative but true; dogs are the only animal that don't have to work for a living, and are in constant happiness."