I love the Apple logo and all, but my Macbook really needed some pizazz, and what says pizazz more than a FlowingData sticker? Nothing. Honest to goodness, I feel like a new man, and now you can too.

For a free FlowingData sticker of your own to put on your laptop, bumper, or forehead, simply follow this Paypal link and donate 75 cents to cover postage and the Paypal fee (sorry, non-US residents. I can't mail to you yet). Want to show a little more love for your favorite data blog? Go for it. The fact that you're reading this is enough for me though.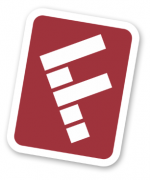 FlowingData army, unite. Get your sticker.
Sticker Printing
Speaking of showing some love, thanks for all the sticker-printing suggestions. In case you're wondering, I decided to go with Sticker Mule (thanks, @donnyepp). Excellent product, service, and prices. Basically, all I had to do was send them my logo, and they took care of everything else. They do your standard shapes, but they can also customize to your pics, like the FD logo. I highly recommend them if you're looking to get your own custom stickers printed.
Update: I changed it to 75 cents from 44 cents, because I just realized Paypal takes a little over 30 cents for fees. Doh. If you already paid the 44-cent postage, you're good. Thanks, everyone for the support so far.