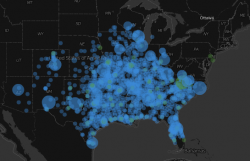 As always, it was an interesting month for FlowingData. Thanks again, everyone for showing your support through retweets, likes, and stumbles.
In case you missed them or are new to FD, here are the top posts from the last month, based on a combination of views and comments. The Walmart map came back to life recently with new data and a feature on CNNMoney.
From the Forums
There's some good stuff in the forums too.
Have a question or something cool to share? Post it in the forums.