As you know, there's this big wave of transparency going on right now, and many organizations want to do more than just post a bunch of spreadsheets. They actually want to visualize it and share their data in a way that can be consumed by the general public. InstantAtlas aims to make that easy – without any code.

Mapping Focus
The focus is on online mapping and then building dashboards centered around that. For example, here's one from the World Health Organization showing core health indicators (above). This one explores reported crime in London: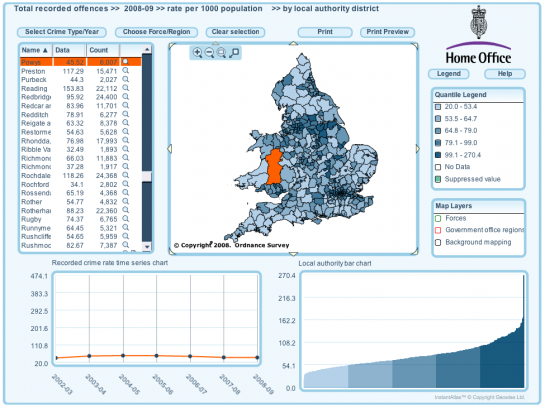 The dashboard is interactive, and because the views are linked, you can see several angles of the data at once. Now it's no Stamen Design piece, but the interaction is pretty slick.
How it Works
The best part about this is the ease-of-use. With just a few clicks and a data import from Excel, you'll get some files to copy to your server and your data is online in a few minutes.
Basically, via the step-by-step guide, you choose a template or customize your own for what type of map and graphs you want. You then select a map (.shp) file, and then import your data. Click on export, and InstantAtlas produces some Flash files for you copy over to your server.
I think it took me about 10 minutes to get something going after I was done installing.
Who it's for
If your group has a lot of geographic data to share, and you don't want to deal with hiring someone to build a custom app, then InstantAtlas might be a good fit. The data stays on your server, so you could also share just within your organization. In any case, InstantAtlas offers a free 30-day trial, so there really isn't much anything to lose. Give it a try, and let us know what you think in the comments below.
Disclosure: InstantAtlas is a FlowingData sponsor.