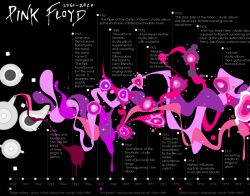 Here are some links and stuff to chew on as you wait for the Super Bowl, in between the beer, pizza, and wings.
Pink Floyd Timeline, 1960-2000 – A highly stylized timeline of music from Pink Floyd over the years.
The making of the NYT's Netflix graphic – The interactive showing the geography of Netlfix rentals was a big hit around the Web. Detailed, engaging, interesting, and a great ad for Netflix.
An Interview With Nicholas Felton, Creator of the Feltron Annual Report – It manages to make a bigger splash every month. Felton gets into some of the details of compiling the report [thanks, Mike].
Multiplayer Basketball – Nothing to do with data or visualization. Just pure, simple multiplayer fun [via Waxy].