How do you compare music visually? You can break it down into data by quantifying the notes, volume, etc and then visualize it with timescapes (above). The horizontal axis represents musical time, from the beginning to end of a piece. Large blocks show similarities to other pieces and smaller noisy chunks show more "fleeting" similarities.

Researches from the Centre for the History and Analysis of Recorded Music (CHARM) use these timescapes to highlight the work of Joyce Hatto, who was described by Richard Dyer of the Boston Globe as "the greatest living pianist that almost no one has ever heard of."
The discussion that follows is kind of over my head, but it's worth a look for the methods themselves.
The above is timescape for Arthur Rubinstein's 1939 recording of Chopin's Mazurka Op. 68 No. 3. Notice the big chunks in orange and black representing some musical sameness to his own recording in 1966.
This apparently, isn't all that surprising, but then compare Hatto's recording of Maurka Op. 68 No. 3 to Eugen Indjic's (who I am guessing is recognized as an accomplished pianist). They are virtually indistinguishable.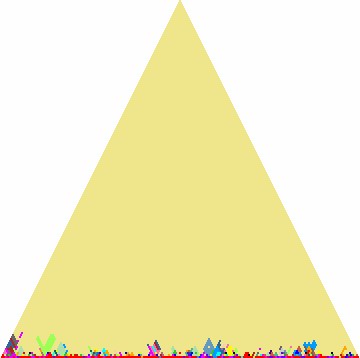 Is this the picture of greatness? (Update: or fraud? Read the comments below.)
[Thanks, Remzi]