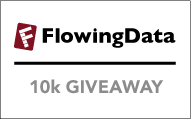 I'm a WallStats fan, so I was especially excited when Jess put up two 389 Years Ago posters for the 10k giveaway. One is limited edition, and the other is really limited edition. Whoever wins these bad boys should thank their lucky stars. The deadline for this giveaway is Friday, Feb 27 at 8pm EST.
Prize Description

The 389 Years Ago Poster by Jess Bachman is a "typographic mashup of black history" and was inspired by Barack Obama's victory in November. It's a honker of a poster measuring in at 16″ wide and 46″ tall. It begins 389 years ago when the first slave ship landed in American colonies and then progresses to the first African American president, Barack Obama. There are only 389 of the above poster. One of them could be yours. On top of that, there is also a color variant of the 389 poster:

There are only 44 of these, and one of them is part of this giveaway.
How to Enter
Post to this thread in the FlowingData forums. Introduce yourself, tell us what you're interested in, your favorite food, drink, animal, number, etc and where you will put the poster if you win it. Two winners will be chosen at random on Friday – one for the original 389 poster and one for the color variant. One entry per person please. Good night and good luck. That was a good movie.
UPDATE: We've wrapped this one up. Thanks for participating, everyone. I thoroughly enjoyed all the introductions in the forums. Congratulations to our two poster winners! I'm jealous.