MIX Online, a community of designers and developers, released Project Descry – a series of four open source web-based visualizations.

Ever wonder what goes into building an effective visualization? Look no further. We decided to roll up our sleeves and explore the topic. We're calling it Project Descry.

Project Descry demonstrates the power of data and information visualization as a communication tool. As a part of Descry, we are releasing a set of open source, web-based visualizations and an article written by the Jon Udell that serves as a broad introduction to the topic.
There is one that covers obesity in America from 1987 to 2007 (above) and another that explores words used in inauguration speeches: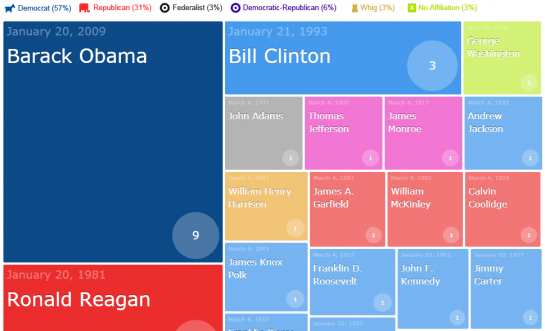 The last two show the process of making a website and your social timeline on FriendFeed. All excellent work by the Descry group. Take a look and explore for yourself and then download the visualizations to get your learn on. Also, don't forget to read Jon Udell's accompanying article on visualization for the noosphere.