I ran a contest last week to improve a graph from Swivel that showed immigration to the United States. FlowingData readers sent in lots of different approaches (that took me forever to get organized for this post), and I still stand by my statement that there's always more than one way to skin a dataset.

The winner of the contest is… *drumroll* … Ben Parizek for his stacked line chart [PDF] annotated with significant historical events. While Jodi and me both agreed that the graphic is quite large, we also agreed that it had a nice polished look that did an excellent job of telling a story.
Thank you everyone for entering, and I hope you enjoyed making your graphs as much as Jodi and me enjoyed looking at and judging them. Here are all of the other entries in their entirety. Please let me know if I made a mistake in crediting any of the graphs. It's getting late and all the words on the page are starting to blur.
The Entries
To start things off Yoav sent in this suggestion:
The screen displays a world map, each continent in a different color. On the top there is a label with the current displayed year number, and within each continent there is a number that shows how many people immigrated form that continent to the US . On the bottom there is a scroll bar that allows to change the years, also, the size of each continent in each year is proportional to the number of people that immigrated from it to America in that year – so upon each scroll of the scroll bar the year number is changed, the size of the continents change and the number within each continent changes as well. Last but not least I'll display besides US on the map a pie chart that displays the aggregated number of immigrants (divided by continent) up to that year.
If we could add a wishlist to the data source, I'll add for each year a major historical event for each continent, and display! this info besides the continent, thus allow the viewers to also have a better understanding of the reasons for the immigration that year.
Neerav went with stacked lines in Excel: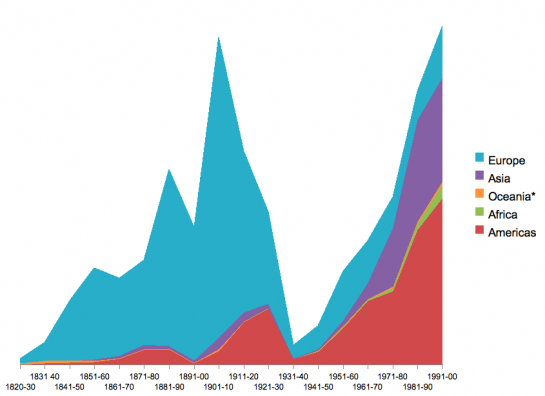 Matthew used a logarithmic scale and did some smoothing: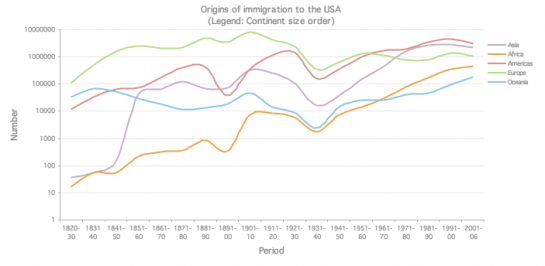 Yihui used R and used arrows to indicate increases and decreases: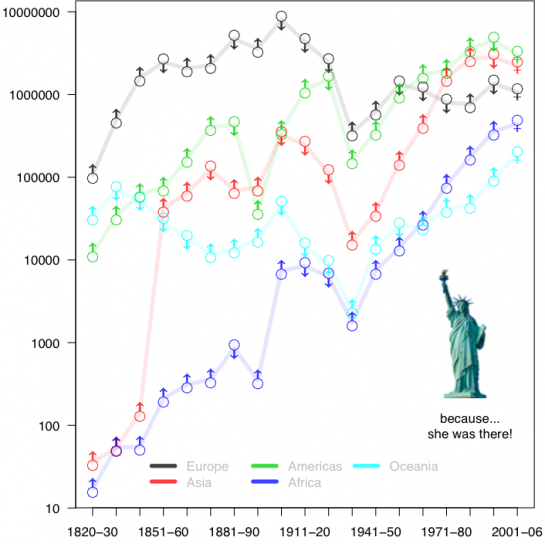 Larger version [PDF]
Bernard produced a series of graphs breaking the data down into different pieces: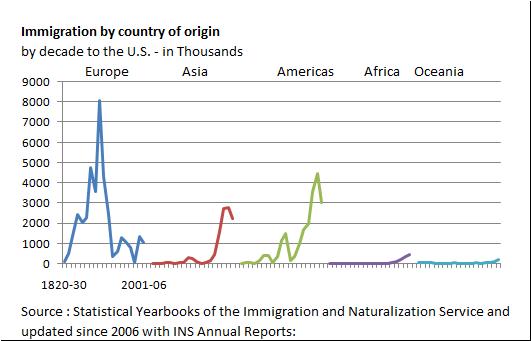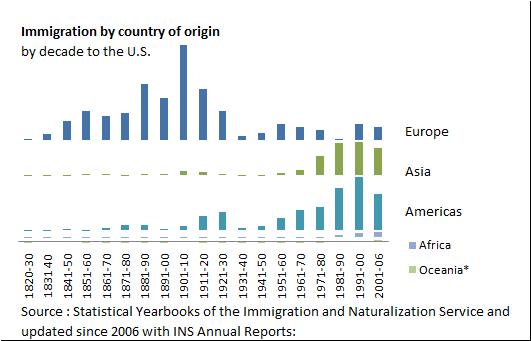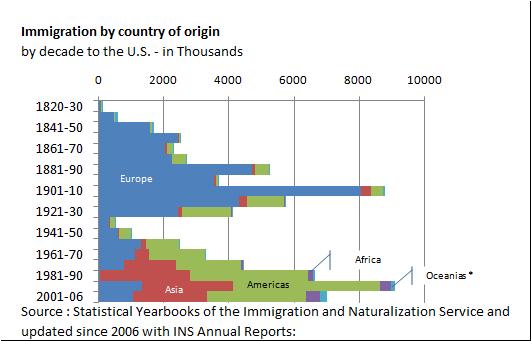 Adelino actually made submitted this graph done in Powerpoint: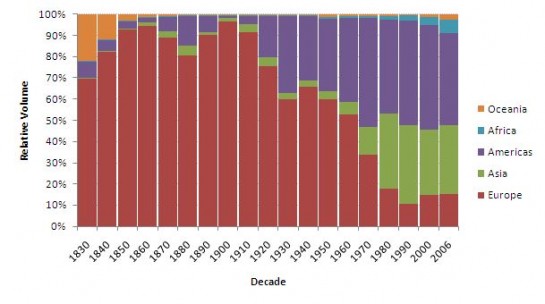 From Matt, "I used a log 2 scale on the y-axis since in my mine, a doubling of population is meaningful (as opposed to a increase of 1 or 10x increase)":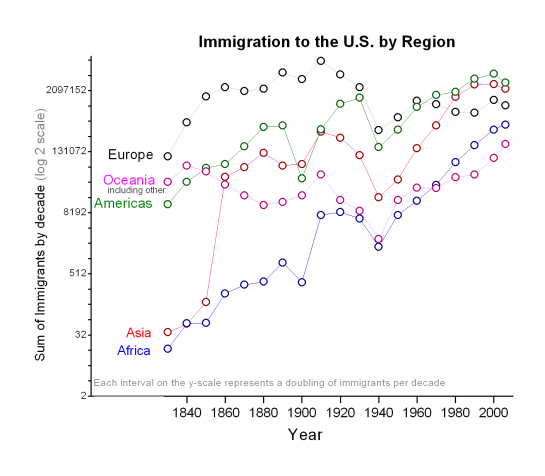 From Steve, "Log scale allows one to see what is going on with the 'lesser' categories (one of which appears to increase in a log-linear fashion). Gray scale make the image suitable for publication in non-color venues (and suitable for the color blind)":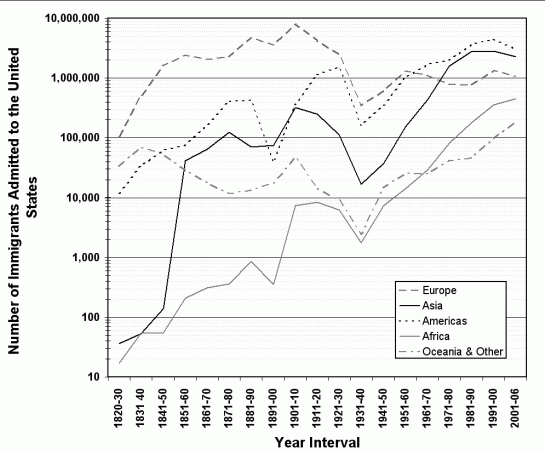 Daniel used Tableau to create these bar charts: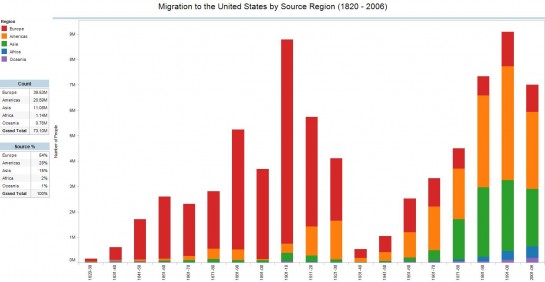 Andy also went with Tableau. I appreciate the annotations: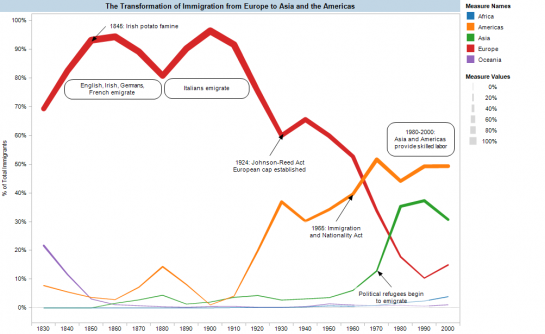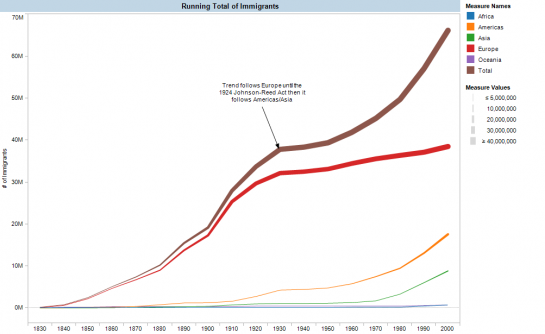 Kester sent in this graph using proportions rather than counts: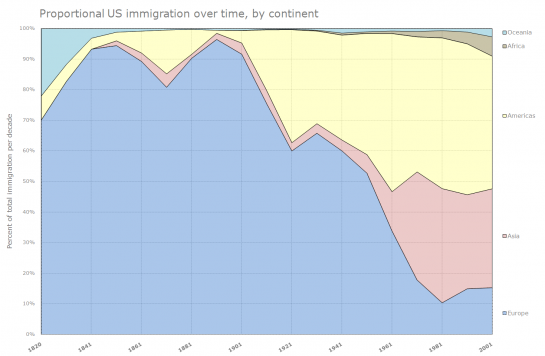 Jerome compared counts against Europeans as percentage of all immigrants: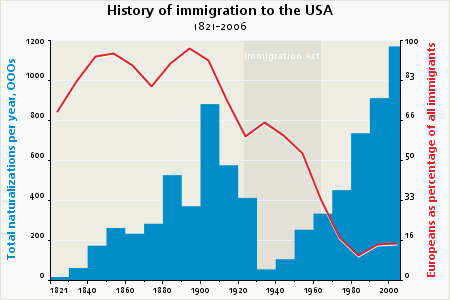 Taggart shows immigration as percentage of U.S. population and where immigrants are coming from: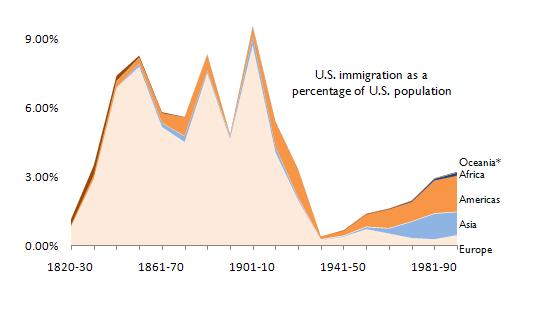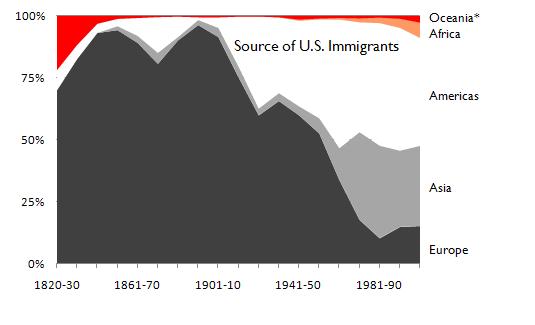 Rik goes with the bubbles:

Mike elects to use a straight y-axis and puts annotation in the important spots. I like the dashes for projected values.

Marc went all out on the research and displayed immigration by percentage: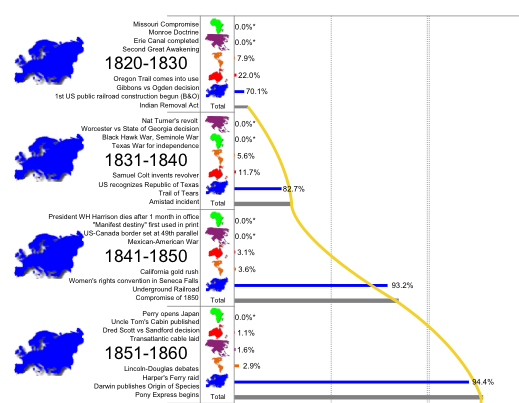 Full version [PDF]
Jie graphs with a stacked chart and some lead-in text: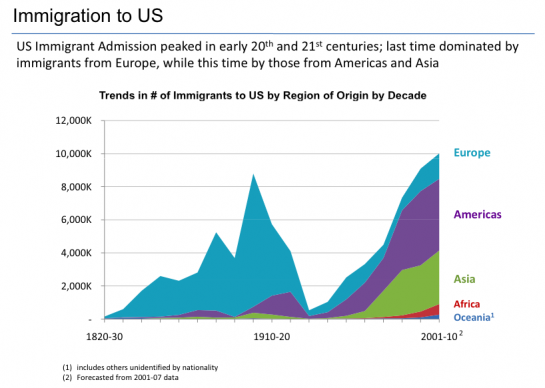 Ian goes the animation route, showing streams of people shoot over to the U.S.:
Edgar used Flash and made his graphs interactive: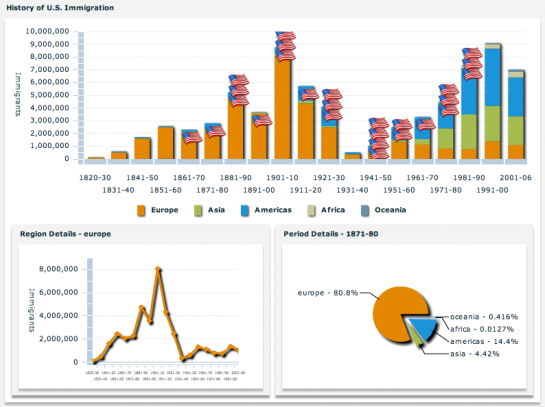 Parveen went with stacked bar charts: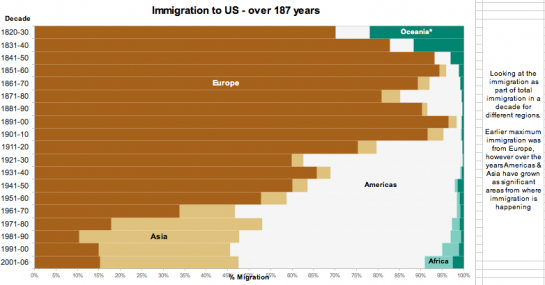 Dibyo uses a stacked line chart and bright colors: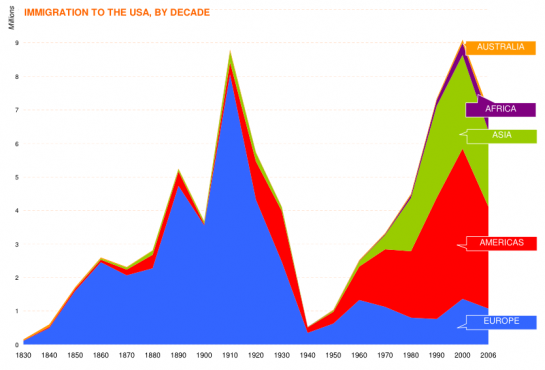 Erik also used a stacked line, but used a different labeling scheme: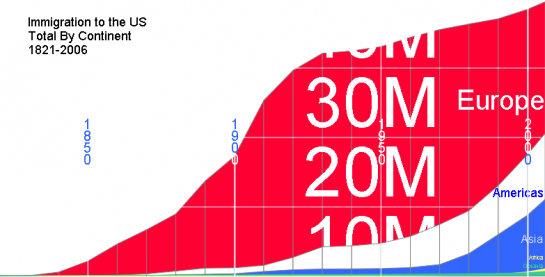 Charles uses centered bars to show trends over time: