I keep stumbling on rants about how media coverage of presidential candidates is uneven, biased, etc. Everymoment Now provides a way to see what's going on with the election from the coverage (and sort of statistical) standpoint. From Craig, the developer of Everymoment:
In order to limit the scope I've decided to keep the focus (for now) on the 2008 US general election. It's a timely, pertinent and, I believe, quite fascinating topic to study under this sort of data visualization lens. When all is said and done, you'll be able to use this site to look back over the last 100 days leading up to the election and see how the shifts between candidates played out in the media. I think we all have a sense that things may get pretty nasty in the coming weeks. I feel that having a bird's eye, hindsight view of how things went down, which stories the media focused on and how that ultimately influenced the final outcome will be an invaluable resource.
Check out spikes in coverage of the candidates or even events and locations. Lots of sparklines and lots of bar graphs very nicely organized.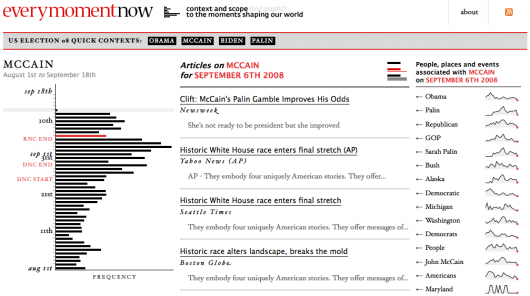 While perspctv serves as election coverage dashboard, Everymoment serves as aggregator.