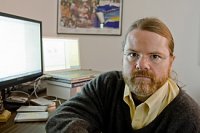 Patrick Ball, a human rights statistician, finds truth in numbers while analyzing and consulting to find patterns and uncover scale in crimes against humanity.
The tension started in the witness room. "You could feel the stress rolling off the walls in there," Patrick Ball remembers. "I can remember realizing that this is why lawyers wear sport coats – you can't see all the sweat on their arms and back." He was, you could say, a little nervous to be cross-examined by Slobodan Milosevic.

Mr. Ball was the first expert witness called in the case against the former Serbian president, who was representing himself against mass atrocity charges at the International Criminal Tribunal for Yugoslavia. Ball had spent 10 months crunching numbers about migration patterns in the former Yugoslav province of Kosovo; his findings suggested that hundreds of thousands of refugees who fled to Albania were spurred by the violence of Mr. Milosevic's army. By the time Ball entered the tribunal chamber, in March 2002, the ousted leader had a reputation for grand orations rather than direct questions; when Milosevic veered off track, the judge would interrupt. "Milosevic would say, 'Dobro,' and go on…." Ball remembers. "It means, 'OK, very well,' but it was clearly a, 'Very well, we'll have you shot later.' I hear [that] in my dreams periodically."

Ball is a statistician – not exactly a profession usually associated with human rights defense. But the Human Rights Data Analysis Group that he heads at Benetech, a technology company with a social justice focus, is bringing the power of quantitative analysis to a field otherwise full of anecdote.
That's right. Statistics is awesome. I dare you to disagree.
[via Statistical Modeling]