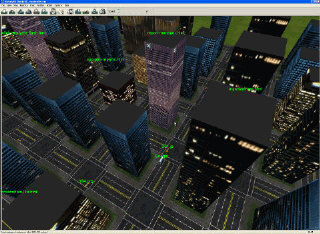 For a while now, I've been interested in how we can apply interaction principles of video games to visualization and exploratory data analysis (although admittedly, gaming is still a very foreign concept to me). Visitorville is an example of how the fun of video games can be applied to analytics. It looks a lot like the awesome classic SimCity (whose source code was recently released, by the way).
VisitorVille applies video game principles to help you easily visualize and better understand your web site traffic statistics.

It's easy: each building represents a web page; each bus a search engine; and each animated character a real visitor to your site.

Just paste our tracking code into your web pages, then launch VisitorVille for Windows to analyze your stats, watch your traffic in real time, provide Live Help, track your PPC campaigns in real time — and more.

Using our unique Virtual VCR, you can even play back traffic from any day or time, at any speed.
Learning From Video Games
We certainly have a lot to learn from video games — interaction, user engagement, graphics, and fun. Seriously, statistical visualization could stand to have a little bit 'o fun tossed in. At least that's what I tell my wife when I try to convince her to buy me an Xbox 360.
Somewhat related note — there was an interesting talk at Journalism 3G on using video games to tell stories, which I'll be discussing some time in the near future once I get all my notes together.
[via Water Cooler Games | Thanks, Iman]