Congratulations to two of my most favorite visualization / design groups – IBM Visual Communications Lab and Stamen Design – who officially now have their work featured at the Museum of Modern Art in New York. Really incredible and well deserved.
From this past Sunday to May 12, VCL's History Flow and Thinking Machine and Stamen's Cabspotting are featured in Design and the Elastic Mind.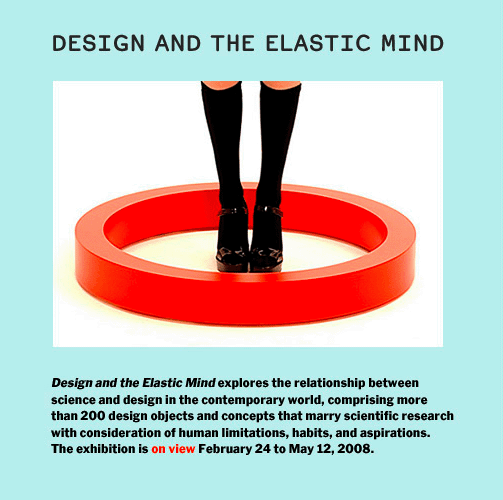 The exhibition will highlight examples of successful translation of disruptive innovation, examples based on ongoing research, as well as reflections on the future responsibilities of design. Of particular interest will be the exploration of the relationship between design and science and the approach to scale. The exhibition will include objects, projects, and concepts offered by teams of designers, scientists, and engineers from all over the world, ranging from the nanoscale to the cosmological scale. The objects range from nanodevices to vehicles, from appliances to interfaces, and from pragmatic solutions for everyday use to provocative ideas meant to influence our future choices.
History Flow

History Flow visualizes dynamically changing documents over time and is best known for showing the evolution of Wikipedia documents. Users of History Flow can watch the constant changes, editing, growing, and shrinking of an article and see the life a document at a glance.
Thinking Machine

This one is actually new to me. Thinking Machine shows potential moves by the computer in a game of chess. Essentially, the visualization shows a machine's thinking process — calculating what moves are beneficial and what moves aren't. Orange curves are potential moves for black while green curves are potential moves for white.
Cabspotting

Cabspotting allows users to see the daily patterns of San Francisco taxi cabs. The online version consists of daily-generated videos as well as a live cab tracker displayed in the form of a map that can of course be zoomed and panned. Even though a traditional map is not underlayed, very obvious patterns still emerge. Cabspotting is a prime example of the many other mapping projects that Stamen has undertaken.
Again, congratulations Stamen and VLC. You deserve all the recognition and more. You provide me (and I'm sure many others) with a lot of motivation to keep learning.
I really hope that I'll be able to get myself to the city before May 12 to see these three great projects as well the other 197! I strongly encourage others to do the same. The New York Times describes Design and the Elastic Mind as an exhilarating new show opening, and I'm absolutely positive that it is.
If you can't make it to NYC, you can browse the online exhibition, which is also pretty cool, and well, will probably want to make you see the real thing even more.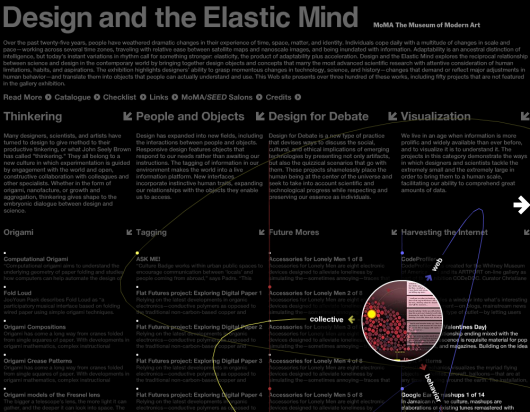 Cool…stuff…overload. Must get…to NYC.