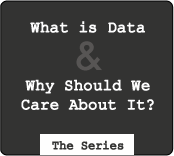 In response to my question, "What is data and why should we care about it?" – Zach Gemignani from Juice Analytics answered:
Obi-Wan Kenobi could have been speaking about data in businesses when he said: "It's an energy field created by all living things. It surrounds us, and penetrates us. It binds the galaxy together."
Data is the residue of every action and interaction that takes place in a company, with customers, and in the marketplace. Businesses have created complicated and effective nets to capture this data as it flies off in all directions. Unfortunately, mountains of data mean nothing. Like young Luke Skywalker's inability to control The Force, a company's inability to make use of data is nothing more than frustration and untapped potential.
Making use of data takes a subtle combination of capabilities. It takes experience and context about the business, speed and skill to manipulate data, and an ability to visualize and communicate results. Data in the wrong hands is useless if not dangerous; in the right hands data can transform into new insights and informed decisions.