Tired of looking at my New York Times graphics yet? Too bad. Here's another one for my your viewing pleasure.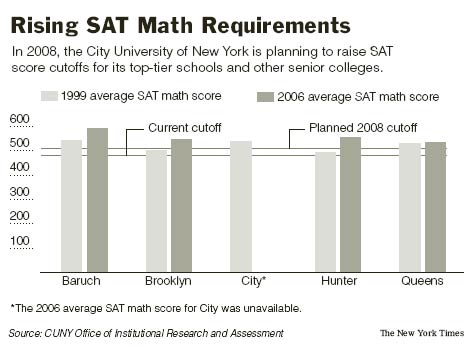 CUNY schools are planning to raise their SAT math scores to 510 for their top-tier schools and to 500 for the rest. Believe it or not, the current cutoff for all schools is 480. Some say the increase in standards is good for the school to improve reputability. Others argue that the new cutoffs single out a lot of minorities since the high school education system is uneven.
Currently, lots of students are coming into CUNY schools unprepared to take college-level math courses, and the college ends up teaching remedial courses like pre-algebra. That's just SAD. It's probably more important to focus on improving the high school education system than it is to try to get unqualified students into college.