Solar time versus standard time around the world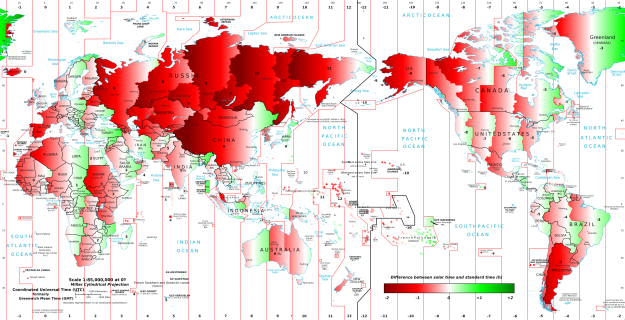 After noting the later dinner time in Spain, Stefano Maggiolo noted relatively late sunsets for one of the possible reasons, compared to standard time. Then he mapped sunset time versus standard time around the world.
Looking for other regions of the world having the same peculiarity of Spain, I edited a world map from Wikipedia to show the difference between solar and standard time. It turns out, there are many places where the sun rises and sets late in the day, like in Spain, but not a lot where it is very early (highlighted in red and green in the map, respectively). Most of Russia is heavily red, but mostly in zones with very scarce population; the exception is St. Petersburg, with a discrepancy of two hours, but the effect on time is mitigated by the high latitude. The most extreme example of Spain-like time is western China: the difference reaches three hours against solar time. For example, today the sun rises there at 10:15 and sets at 19:45, and solar noon is at 15:01.