Network diagrams simplified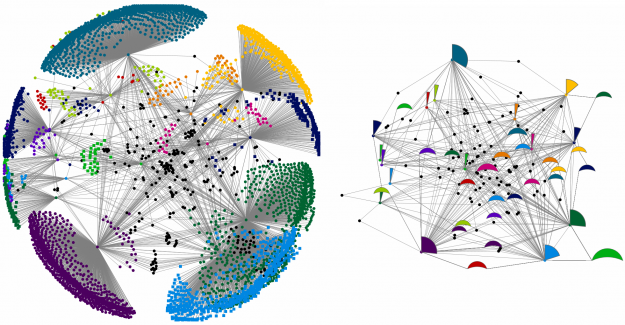 Network diagrams are notoriously messy. Even a small number of nodes can be overwhelmed by their chaotic placement and relationships. Cody Dunne of HCIL showed off his new work in simplifying these complex structures. In essence, he aggregates leaf nodes into a fan glyph that describes the underlying data in its size, arc, and color. Span nodes are similarly captured into crescent glyphs. The result is an easy to read, high level look at the network. You can easily compare different sections of the network, understand areas that may have been occluded by the lines in a traditional diagram, and see relationships far more quickly.
I love the elegance and simplicity of Cody's work. He details every step of the new layout in his paper, and it's definitely worth a read. The code for it will be pushed to NodeXL, an open-source tool for Excel, in the coming weeks.