Charting the radio top 40
BBC Radio 1 takes a shot at displaying the top 40 chart visually in The Love 40. It's actually a lot better than I thought it was going to be.
A grid view of bubbles arranges singles (or albums) such that you have each column as a day, and each row as a rank. So for example, the top right bubble, is the most recent number one single, which at the time of writing this, is Nothin' on You by B.o.B, featuring Bruno Mars. Roll over any song (i.e. bubble) and a connecting path shows how the song has risen or fallen in the past few weeks.

You can also choose to 'love' a song, which is like giving it a thumbs up. That in turn contributes to this not so worthwhile circle view thing, that I don't really understand: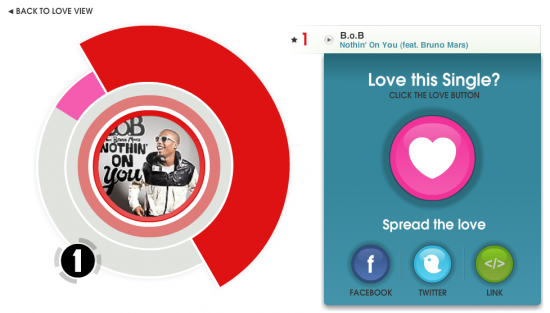 [Thanks, @liammcmurray]