How Long Will the World's Natural Resources Last?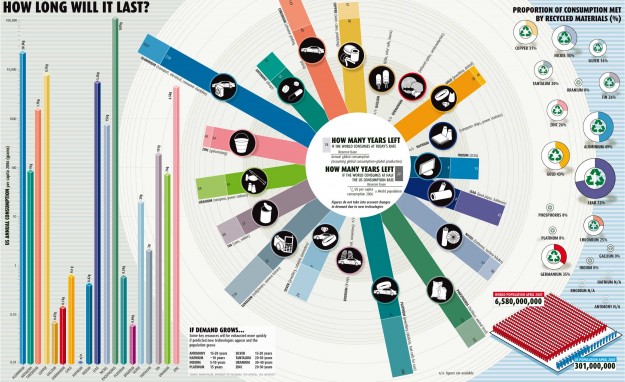 This graphic from New Scientist shows when certain natural resources will run out in the world if we continue at the current consumption rate. However, reader beware, this graphic feels more like eye candy than real data. I'm no ecologist, but something about these numbers doesn't seem quite right. Completely out of gold in the entire world in 45 years? No more indium (for LCDs) in 13 years? I don't quite get the comparison between world consumption rate vs half of the US consumption rate. Why half? Again, I'm no ecologist, so maybe this is totally normal. I dunno. Maybe someone who knows better than me can chime in here.
Data assumptions aside, the design is interesting. A little scattered - but interesting. Can you think of some ways to make this graphic more informative?