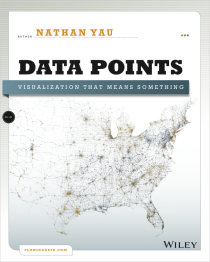 It seems like ages since we ran one of these.
It's hard to believe Data Points hit the shelves two months ago. (Thank you to everyone who got a copy!) It still feels brand new in my head. I kind of thought that time would slow down after I finished the book (and dissertation), but it seems to be moving even faster now.
Anyways, if you'd like a chance to win a copy of Data Points blemished by my signature, leave a comment below by Wednesday, June 5, 2013 11:59pm PST. Tell us what your favorite number is and why. One entry per person please. I'll pick a winner at random via sample() in R. Good luck.
And of course, if you can't wait, have never been lucky at cards, or want a blemish-free version of the book, you can get it at online and physical bookstores everywhere.