Information visualization firm Periscopic, in collaboration with GE, explores the makeup of the American workforce, from 1960 to present.
Jobs are definitely a top of mind subject. Did you know that manufacturing jobs were the largest sector of employment in 1960, yet today the category has fallen to 6th place? In this interactive visualization, browse who has been working in America over the past 50 years by sector, gender or age.
As in other Periscopic projects, the interactive provides multiple views that let you see the data from different angles. The initial view is a current breakdown of sectors, and when you press play, the visual rewinds to 1960, animating forward in time. Faded people icons represent the peak of each sector for context. Then as you might guess, the people rearrange themselves accordingly when you select breakdowns by age or gender.

You can also have a look at the entire trend via stacked bar graph.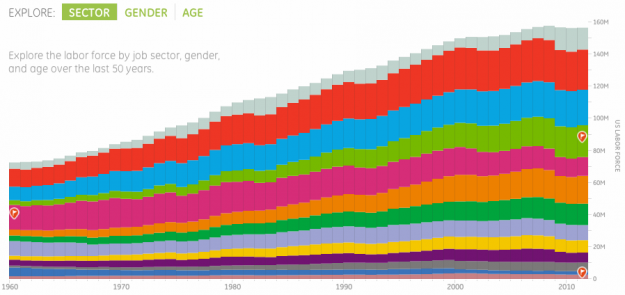 The stacked view is hard to decipher actual differences because of the vertical offset, but never fear. When you click on a category you get a year-to-year comparison between 1960 and now. Good work as usual, Periscopic.