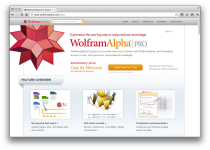 Taking the next step in the Wolfram|Alpha experiment, Wolfram launches a Pro version that lets you plug in your own data and get information out of it.
The key idea is automation. The concept in Wolfram|Alpha Pro is that I should just be able to take my data in whatever raw form it arrives, and throw it into Wolfram|Alpha Pro. And then Wolfram|Alpha Pro should automatically do a whole bunch of analysis, and then give me a well-organized report about my data. And if my data isn't too large, this should all happen in a few seconds.
I haven't had a chance to try it yet, but the sense I get from others is that the part about data not being too large is key. Apparently it's still in the early stages and can't handle much data at once. The main hook is automated summaries, model fitting, and some graphs, but if you know enough to interpret the models appropriately, shouldn't you know enough to derive them?
I'd love to hear initial thoughts from those who have tried it. For those who haven't, it's $4.99 per month, but there's a two-week free trail.
[Wolfram]