With the success of FitBit and the current wave of self-tracking, it was only a matter of time before something like Basis came out (currently for pre-order). It's the same idea as FitBit, which is a clip that tracks your movement so you can see how much you move and monitor your sleep patterns. However, instead of a clip, Basis is a watch and comes with additional sensors for heart rate, temperature, and galvanic skin response (sweat). Come near your computer and data uploads automatically via bluetooth.

Obviously these new streams of data allow you to interpolate more, in addition to sleep and movement. Temperature readings allow for more accurate estimates for calories burned and the sweat sensor can show something like workout intensity. Then go to your dashboard via computer, iPad, or phone.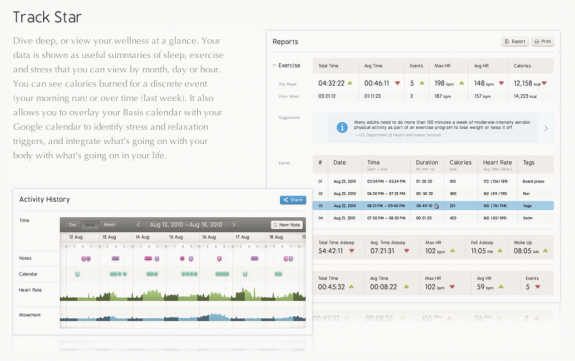 It also looks like they're making a push for social and data sharing in the context of friendly competition. This is also something FitBit does, but again, there's more data here. However, at $199, which is twice as much as FitBit, the Basis wristband might be out a lot of people's price range so you might just end up comparing to strangers.
Out of curiosity, does anyone who has a FitBit use the device regularly, and more importantly, found out anything useful about yourself? Would love to hear your experiences.