In this series of interactive cartograms, FedEx shows our changing world (and I guess, how they are changing with it) through a variety of worldwide demographics such as access to mobile Web, growth, and happiness. Above is the cartogram for richest countries i.e. GDP. Choose a topic, press play, and the cartogram changes accordingly to match the current metric.

In case you're unfamiliar with cartograms, they're the same idea as choropleth maps, but instead of using color to represent a metric, the country areas are used. A caveat of choropleth maps is that large geographic areas inevitably end up looking more prominent even if their value is lower than that of a smaller country. A cartogram on the other hand will make even a smaller country more prominent if it has a higher value for whatever metric. The caveat with cartograms of course is that you can easily end up with a big blob.
For example, here's the cartogram for high-technology exports. Looking kind of blobby in Europe.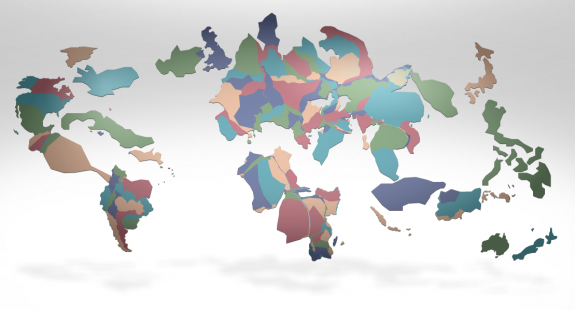 Have a look for yourself. There are quite a few other topics to click through.
[FedEx]