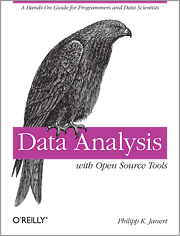 Looking to get more serious about your data analysis? Data Analysis with Open Source Tools by Philip K. Janert can help you with that.
The back cover reads:
Collecting data is relatively easy, but turning raw information into something useful requires that you know how to extract precisely what you need. With this insightful book, intermediate to experienced programmers interested in data analysis will learn techniques for working with data in a business environment. You'll learn how to look at data to discover what it contains, how to capture those ideas in conceptual models, and then feed your understanding back into the organization through business plans, metrics dashboards, and other applications.
It's a little over 500 pages and thorough about describing how to analyze your data. However, it is light in the "with open source tools" part of the title. Most of the time is spent explaining concepts, and then each chapter ends with a workshop, which includes some code. There are examples throughout, but few provide an explanation of how a plot was made or the implementation of a method. So definitely not a book for beginners.

However, if you've taken an intro stat course, and are ready to learn more, then Data Analysis could be helpful. It's pretty technical, or as my wife said, "It has a lot of equations."
Win a copy
Want to win a copy? I have five of them up for grabs. For a chance to win, leave a comment below by January 9, 2011, 10:00pm PST. Tell us what you used to make your very first graph. Pencil and graph paper? Excel? R? Jelly beans?
Then come back here on Monday to see who won. I'll pick five people at random. Good luck and have a nice weekend.
Update: Congratulations to the following…
Thanks for participating, everyone. Still want a copy? Grab it on Amazon.