Private browsing. All the modern browsers have it. Turn it on, and the browser won't keep your history during the session. Sometimes it's used to pay bank bills on a public computer. Sometimes it's used for other stuff. In an opt-in study looking at a week in the life of a browser, Mozilla looked at how people use private browsing.
Again, it's worth noting that people opted in to this study (about 4,000 of them), and Mozilla only recorded when users started and stopped private browsing. Nothing in between.
That said, they came up with two basic findings. The first is when people typically use private browsing (above).
They saw usage spikes during the lunch hours as well as just before the work day ended. The other spike is after the dinner hours and then finally, in the late hours of the night.

The second observation was that most people go into private browsing for somewhere in the ten minutes range: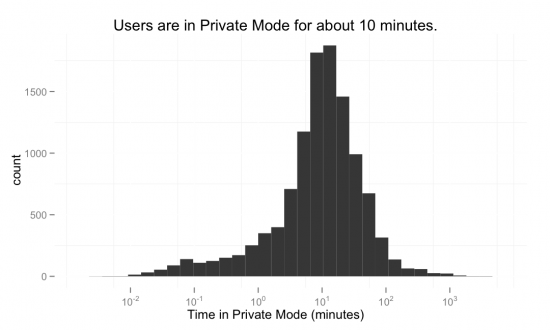 This is interesting and all, but what do we really want to know? What're people doing during those spikes? Of course, that data doesn't exist, and if it did, that'd be some serious privacy stuff. So instead, all we can do is speculate. Leave your guess in the comments below.
There's some aggregated data available from the study, but I don't see any raw anonymized data or anything pertaining to private browsing.
[via]