Shakespeare literature is confusing. That's not even an opinion. It's a fact. Stephan Thiel, for his B.A. thesis at the University of Applied Sciences Potsdam, takes a wack at understanding Shakespeare through a series of visualizations.
As a result, and based on data from the WordHoard project of the Northwestern University, an application of computational tools was explored in order to extract and visualize the information found within the text and to reveal its underlying narrative algorithm. The five approaches presented here are the first step towards a dicussion of this potentionally new form of reading in an attempt to regain interest in the literary and cultural heritage of Shakespeare's works among a general audience.
The above is a sample from an exploration of the most frequently used words for each character. The major characters' speeches are highlighted in yellow.

My favorite experiment of the series, albeit, probably the least developed, is a view of Macbeth and Hamlet through the eyes of Google search results. In an effort to find significant quotes, phrases were queried and a force was applied to words based on the number of results returned. The end visual looks like a document with fisheye zooming in significant areas.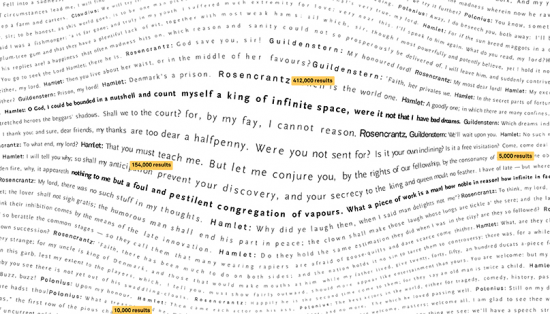 See the full visual series here.
[via]