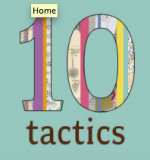 Tactical Tech, the group that brought you Maps for Advocacy and Visualizing Information fo Advocacy, has taken it up a notch with their release of 10 tactics for turning information into action:
10 Tactics provides original and artful ways for rights advocates to capture attention and communicate a cause. It includes a 50-minute film documenting stories from around the world and a set of cards; with tools, tips and advice, for you to work through as you plan your own info-activism.
The 10 tactics to get people do stand up and do something useful are as follows (added emphasis by me):
Mobilise people
Witness and record
Visualize your message
Amplify personal stories
Just add humour
Manage your contacts
Use complex data
Use collective intelligence
Let people ask the questions
Investigate and expose
Unfortunately, the documentary portion isn't available in its entirety online, so the below preview will have to suffice for now. You can host a screening with Tactical Tech to see the rest. There have been over 100 screenings in 45 countries so far.