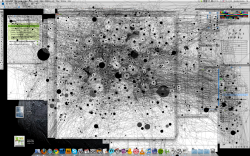 It was a good month for FlowingData. We passed the 30k-reader mark, and I think this past month was an all-time high for pageviews. Thanks again. everyone for reading and sharing FlowingData.
I also managed to switch servers (semi-) successfully while updating the FD homepage in the process. Make sure you check that out if you haven't already, and let me know what you think in the comments.
In case you missed them, here are the most popular posts from last month ranked by a combination of views, comments, and trackbacks. I especially enjoyed a lot of the thoughtful discussion that came out of these posts.
From the Forums
There was also some good stuff going on in the forums with a couple of job postings and some data goodies.
Data Visualization Guru – Energy group EnergyHub is looking for someone who can help visualize their data.
Interactive Data Visualization help needed – So is FrogDesign, but for a smaller project.
Visual Architects Contest – Do you have what it takes to win?
WinterOlympicMedals – The Olympics are over, but that doesn't mean you have to stop playing with several decades of medal data [thanks, annie]